Riverhaven
Drive
-
American
Oak
Flooring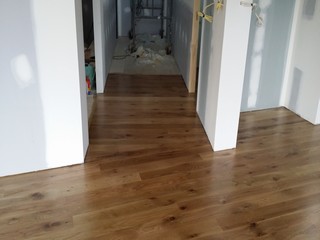 Riverhaven Drive - American Oak Flooring
Timber Species - New American Oak Timber flooring
Scope of work - rough sand, trowel fill then fine sand
Finish - 3 coats of Water based finish low shean

This rustic American Oak hardwood flooring installation wasn't done by Nufloors however we were asked by the customer to come in and sand this 120 square meters of timber floors. This two level house is in the final stage of completion but was by far the hardest one we had to do due to access. With no driveways or footpaths it made access into both levels very difficult especially when it started to rain.
Like any job that Nufloors does as floor sanders we always try to have a plan to ensure all goes according to plan. In this case we took an extra big machine with us so that we had one on each level. Now carrying these big machines down steep banks in the mud was no easy task. However at this point it was dry so that turned into a small bonus for us.
Now the rustic oak has lots of knots and chunks in it that need to be epoxy so that took up the rest of day one. We were supposed to trowel fill the floor after that to make it look new. By good luck the owner was on site in the morning and said that she would like it as rustic as possible so no trowel filling need. Sweet.
After meeting with the owner it was into the floor sanding. This only took two days. So we got on site at around 1.30 on Monday. Gear in and epoxy done. Tuesday was meeting with the owner at 7.30 am and by days end most of the sanding process was completed. Wednesday saw back on site getting the last bits sanded and struggling to get our gear back up the hill in the mud. This really took a strain on the old body.
We gave it a good disc back and got two coats of water based on the floor. Thursday morning saw back to apply the last coat to the floor. Job done with a beautiful finish. Then it was back down south to carry on with work down there.
We applied three coats of water based polyurethane from Pullman with a semi gloss finish to this timber floor nufloors installed in the north shore.