Stanton
Rd
-
Pine
Flooring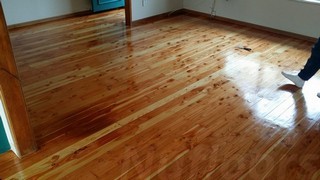 Solvent based Polyurethane, Pine flooring, 3 coats of Low Shean Finish
Timber Species - existing Pine Timber flooring
Scope of work - rough sand, fill then fine sand
Finish - 3 coats of solvent based finish low sheen
Stanton Terrace. Hills borough Douglas Fir. Information from several websites. Thank you Google.
New Zealand-grown Douglas-fir timber was first available in the late 1940s. By 1960, some 60,000 m3 was sawn per annum, growing to over 170,000 m3 by 1988. Today, about 113,000 ha of Douglas-fir is grown in New Zealand – mostly in the South Island – supplying an annual production volume of 155,000 m3 of rough-sawn timber, about 3.5 percent of all New Zealand production timber.
Strength, stability and stiffness are vital requirements of superior construction timber to meet common durability needs. In each of these areas Douglas-fir stands out as a top performer as well as offering natural moisture resistance and treated or untreated building options.
In New Zealand's harsh environment builders and homeowners alike must be assured that their homes and places of business are resistant to all that the elements may deliver. New Zealand Douglas-fir offers environmental, sustainable and superior solutions to the majority of building and construction requirements.
In New Zealand, Douglas-fir is the second most planted forestry species after radiata pine. Its timber is widely accepted on the world market, and it has a good reputation for structural use. With around 112,000 ha of Douglas-fir plantations, NZ is the third largest grower after France and Germany, outside of the Pacific Northwest.
Douglas-fir grows best in the South Island, on colder, snow-prone sites. On the more mild sites around the country it usually takes second place to radiata pine. Annual new planting since 1995 has varied between 1,000ha and 9,000ha. Most of this is confined to the eastern and southern foothills of the Southern Alps, at altitudes of 350m to 950m above sea level.
Wow. What a lot of information.
So with all this newfound information in hand what does it all mean to you the reader. Probably not much. However if you are person who likes to learn new things then I guess as far as Douglas-fir goes we all have learned a little bit of useful information. Which of course brings us to the story about this floor.
Now I haven't done many Douglas-fir timber floors before. This is mainly due to the fact that it isn't very common. Now I must say that I find Douglas-fir very cool because once sanded and polyurethaned the knots so look very 3rd. The grain and knots in the timber are very strong in relation to most of our timber species. You need to check out the photos of the floor to see what I mean.
Nufloors Floor Sanding Services Auckland specializes in all timber species as well as supply and lay of any type of timber and hardwoods you could think of.
This wooden floor was coated with solvent based polyurethane with low sheen finish as the last coat.