Commisariat
Rd,
Rimu
Flooring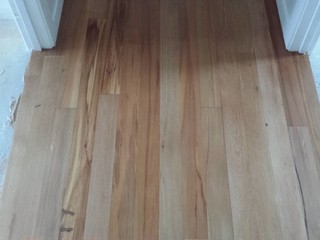 Commissariat rd, Mt wellington - Waterbased Polyurethane, Rimu flooring, Trowel Filled, 3 coats
Timber Species - existing Rimu Timber flooring
Scope of work - Repair flooring, rough sand, Spot fill and fine sand
Finish - 3 coats of Water based finish low sheen

This was quite a mixed bag for this wood floor. With large renovations undertaken by the owners to have the house of their dreams. The wooden flooring was in need of a major renovation of its own. No problem for Nufloors as we specialize in hardwood timber floors. First things first though. There was a concrete pad smack bang in the middle of the lounge that needed to be smashed up.
No problem for our floor sander with a big ass jack hammer. The jackhammer did it's job and rimu recycled timber flooring was laid in its place. With other small patches attended to it was off to lay stairs and a landing for the down stairs parts. The hardwood floors installation now complete, A day well spent one thinks.
The process of floor sanding this beautiful native timber flooring was less so with plenty of sanding floors required. Oh well. Day one saw it sanded and trowel filled ready for the floor sanders to complete the sanding process tomorrow.
Well the next day saw us moving at rapid speed with most of the floor sanding finished by lunch time. However like everything in life there is always something that will come and bite you in the ass. On this job it was the stairs. What should have taken about half an hour took three.
Oh well shit happens. We finally got if sanded and had two coats on it by five o'clock so who can complain really. The next day saw the last coat of water based polyurethane on the timber flooring ready for the customer to shift in on the weekend.