Herne
Bay
-
American
white
oak
flooring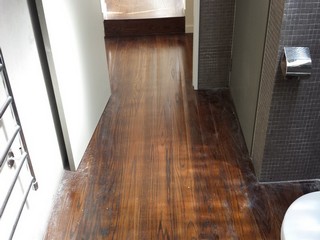 Timber Species - Existing American Oak Timber flooring
Scope of work - rough sand, Spot fill and fine sand
Finish - 3 coats of Solvent based finish low sheen

This one hundred forty square meter floor was stained in a walnut solvent based stain that had been damaged due to a leak in the roof. Nufloors had been contacted by the owners to re-sand this hardwood timber floor and put a natural finish back on it.

As luck would have the boss decided that we should all be on this job including himself. So that was all good by me. I got his lordship behind a big machine for the day. While he went about making a mess the rest of us got down to the business to floor sanding the rest of the house.

Bad luck for me. Being the head floor sander, you would think I would get the best job. Lol not. I got the short straw and ended up with the stairs. Hell what a job that was. Two days of busting my gut. On a bright note. At least I didn't have to scrape them. Thank's guys for that. See our Gallery for our photos
So with machines going full blast we were away. This big job was no match for the team at Nufloors. We blasted away in true fashion to a beautiful end result. With three coats of satin finish and even I must admit that it came up awesome on this just hardwood floors.

Just as a finishing note as a wooden floor company. floor sanding a hardwood flooring that as been stained before does require more floor sanding to remove the stain in the timber.
Herne Bay, American white Oak flooring was Written By Hugh floor sander