Mountain
Rd
-
Jarrah
Flooring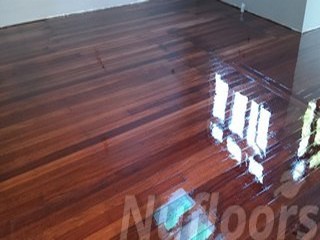 Mountain Rd, Jarrah Flooring Water Base Polyurethane
Timber Species - existing Jarrah Timber flooring
Scope of work - rough sand, trowel fill then fine sand
Finish - 3 coats of Solvent based finish low shean

Jarrah Wooden flooring - Mountain Rd, Epsom A little while ago I wrote about the jarrah floor for Bindon Construction in Graham St in the CBD. When I wrote that blog I went into detail about Jarrah and where it comes from and how it got to New Zealand. Now with all that in mind the timber comes over from Australia when ordered by the timber merchants.
Now what does this have to do with Mountain Rd? The job at Mountain Rd has jarrah flooring in it and is a little over 100 years old. Now what we believe is that a merchant brought in a lot of jarrah and then used some for his own house. This wouldn't be unusual except that jarrah in a residential house is of this age.
Nufloors had been contacted by the owners to come in and sand and polyurethane this 120 square meter floor in this 100 year old house. Has this floor had never been sanded before it required us to get nasty with it. My trusty little minion and I battled our way through cross cutting the floor with a 24 grit before going onto a 40 grit.
So in two days of floor sanding we managed to get the jarrah floor done with a 24 grit a 40 grit and a 80 grit. Not bad for two days work. Wednesday had us back in with a extra staff member to give us a hand. By the time Guppy turned up to help we were on the home stretch with just disking and coating left to do.
So we got it all coated with two coats on and ready for the final coat on Thursday. So with a bit of time and effort and of course some extra help we got this very old floor looking like a new one. As one might say. They now have a Nufloors Floor.
The floor was coated using Mirotone sealer and gloss with a top coat done with Handley's low sheen. All coats are done with a solvent based polyurethane