Vale
St
-
Parquet
Flooring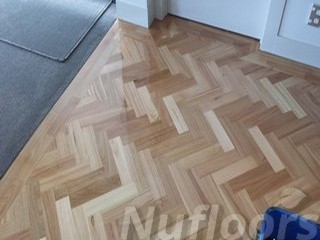 Vale Street, Water based Polyurethane, Parquet flooring.
Timber Species - existing Herringbone Parquet Timber flooring
Scope of work - rough sand, trowel fill then fine sand
Finish - 3 coats of Solvent based finish low sheen

This is probably one blog I'll get a kick out of writing. Now we all know the song from Aerosmith. Living it up in an elevator, livin it up while I'm going down.
Now while you're busy humming that tune I've just put into your head you're going to ask yourself what does that have to do with floor sanding. Actually a lot in this case.
So my little minion aka Guppy and I were sent to an apartment block at the back of St Heliers to sand and polyurethane a parquet floor. The floor was in pretty good condition but the customer wanted to give the floor a new look.
Now this herringbone parquet flooring was only the kitchen and entrance so didn't take to long to do. After about three hours of work we had this floor nailed. We made up a special stain in the polyurethane to give it a richer look and that's that. So the elevator??
Ok the elevator. I've done jobs everywhere and can say that I've seen it all but this one is a crack up. Try coating a floor while standing in a lift. Confused. I'll say it again. Try coating a floor while standing in a lift. Got it now.. This job was on the third floor and you had to take the elevator and it opened in the entrance of the apartment.
I had only ever seen this in the movies so it was so cool. That was until we had to coat it. My mate Guppy had to hold the door on the lift for me while I tried to coat it as quickly as possible without the door shutting on me. Which it tried to do a couple of times. Take a look at me trying to coat the floor from the lift.
click here for our photos Sb Vale st
Vale Rd St Heliers - Parquet timber flooring - written by hugh, parquet flooring nz