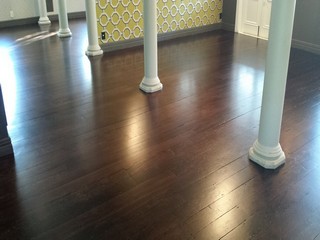 Timber Species - existing Kauri Timber flooring
Scope of work - rough sand, then fine sand and apply walnut stain
Finish - 3 coats of Solovent -based finish low sheen

Bracu Restaurant, Bombay - Stained Kauri wood Flooring Nufloors Floor Sanding Auckland was given the opportunity to sand, stain and polyurethane this very timeless treasure. The Bracu Restaurant at the Bombay Hills. I took the opportunity to take a few parts from their website for your reading pleasure. When we arrived on site we truly appreciated the absolute pleasure of this place.
The Kauri wood floor had been stained before and was now in major need of a re sand. It was done originally in a dark stain and it had worn through in some places and the coating was peeling off in places. The floor definitely needed our touch on it. So with two big machines running with a 24 grit on it we quickly made short work of this 80 odd square meters of floor.
I took this opportunity to get both our young up and coming floor sanders on the big machines while I took the time to do some on site training with one of them. With this now under control I left them to it for a little while before kicking one of them off to jump on a machine myself to speed things up. We got on site at around noon and by day's end we had it 24 and 40 grit done. Not bad for a afternoon of work.
Thursday afternoon saw only Aaron and myself back at it. But to give us credit we had it finished and ready for Discing. Now we ran into a problem. We had no discs for the discer. Oh well. Early day. The next day saw us back to finish the rest of the floor and apply the first coat of stain to the floor. After that it was back to Daryls.
That afternoon Daryl and I went back to put the first coat of polyurethane on. Saturday and Sunday we coated it up and left the job done. They now have a beautiful finish to their restaurant floor. Next week we go back to sand and stain their timber decks.
The floor was stained with a NGK stain in dark walnut and coated with Handley's gloss with the last coat done with low