Jones
Rd
-
Matai
Flooring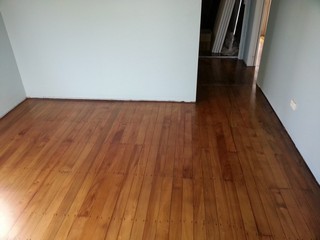 Timber Species - existing Matai Timber flooring
Scope of work - repair and install recycled timber flooring, rough sand, Spot fill and fine sand
Finish - 3 coats of Water based finish low sheen

Hunua is for those who don't know is south-east Auckland. East of Papakura. Nufloors as over the years done numerous floor sanding jobs out that way. This job was a house that was relocated on tosite with the owner doing most of the work himself. The state of the job conditions was less that great. I will give you a quick list.
The driveway was not the best for our vans after it had rained. The entrance into the house was very poor with no proper stairs for our machines. The painters and owner were trying to work inside with us and getting in the way. And then the owner wanting us to rush so he could shift in meaning we ended up doing the work in two halves. Not well organized at all.
Now with that said we did do what needed to be done. First we had a lot of timber flooring to replace, recycled timber flooring was found in a demo yard in Papakura. So we had a team of guys doing all the floor repairs. Once that was done we epoxied up the holes and joints then got underway floor sanding this matai floor.
The customer wanted a stained floor but because he wanted to shift into one-half of the house we had to use a VerMeister Color Oil with a water based polyurethane also from VerMeister. Once the floor was finished to a fine sandpaper the VerMeister oil was applied by buffing on with our polishing machine.
The three coats of water-based polyurethane was applied after the oil was fully dry. Job done. The customer then shifted everything on to the finished floor allowing us to complete the other half of his house. Our floor sanders we have a taste of the country, cows sheep and mud, yes it was rainy
For full photos click Here Wb Jones Rd
The VerMeister oil is one of the best products Nufloors has found and we will be using it again when floor polishing matai flooring at Takapuna next week.
Jones Rd, Hunua was written by Hugh floor sander to NuFloors