Mountain
Rd
-
Cork
Flooring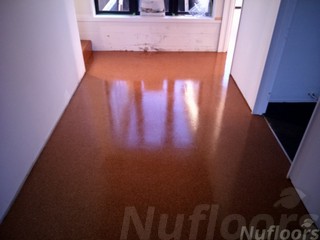 Mountain Rd, Solvent base Polyurethane, Cork flooring, 4 coats of Gloss Finish
Scope of work - Install Nautral Cork flooring, rough sand And fine sand
Finish - 4 coats of Solvent based finish low sheen

Cork tiles are a natural choice for many people and complete any home. They are warm while soft under foot. Should you have them in your kitchen they are far better than tiles when dropping dishes. Luckily corks soft features means that most times you don't break your best crockery.
Cork flooring has been around for many many years and though over the past few years it has dropped off in sales and installation it is still a favorite product choice for many people who want to have something different in their home.
Being a natural product tends to favour many people and the cork can come in a pre finished colour for those who would like something a bit different. Though Nufloors Floor Sanding auckland doesn't colour the cork per say we can provide you with a natural cork for your home. Nufloors can supply and lay cork any most areas of your home.
For this customer he wanted the warmth and colour of the cork throughout his home which is why most of the house was done. The cork floor was sanded and coated in a solvent based polyurethane with a low sheen finish put on for the last coat.
If you wish to have a free no obligation quote done give us a ring at Nufloors. cork flooring in hamilton and auckland