Massey
Rd
-
Hall
Flooring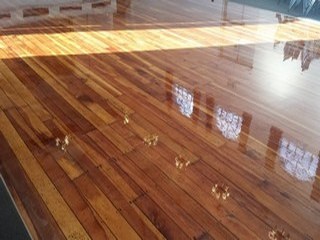 Massey Rd, Solvent based Polyurethane, Matai Wooden floors, 3 coats of Gloss Finish
Timber Species - existing MataiTimber flooring
Scope of work - rough sand, Spot fill and fine sand
Finish - 3 coats of Solvent based finish low sheen

Nufloors - Floor Sanding is contracted to DTZ to their community halls and this one in Massey Rd in Mangere was no different. Well not exactly. This hall was hired out permanently to a ballroom dance group. Now this of course is were the problem comes in. The floor was so damaged from stilettos that no amount of floor sanding was ever going to get it out. We sanded the floor many times with the 24 grit to no avail. This one was definitely going to make us work for it.
So even though the floor wasn't very big it took us three full days of sanding before we finally got the first coat on. Over the next couple of days we got the last coats on and I have to say that it did look pretty good.
So we coated it with three coats of solvent based polyurethane from Handley's Industry.
So Nufloors Floor Sanding Services Auckland and Hamilton can do any community Hall anywhere from the greater Waikato areas to Auckland wide. I have done many small country halls all over the Waikato. So if you need your local hall sanded and polyurethaned give us a ring.