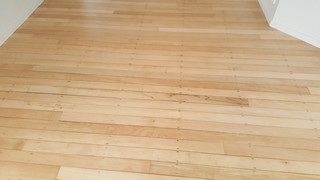 Did you know our solid wood floors are a bit like people? Your puzzled right! Well let me explain... like any two people who are of course people but different in many ways such as features and presentation etc, so too are peices of wood. At Nufloors we pride ourselves in putting up photos of our jobs during and at completion. Lets face it many of us are stimulated by the pretty pictures online and as a visual person I know a beautiful picture of a sanded and polyurethane native or oak floor completed by our floorsanding Auckland team is inspiring. For many customers this is a selling point as they say "I want my floor to look like that! This last week we had a situation just like this... imagine our surprise when we were told it "is not quite right"...
As you know Nufloors is a mobile business whose service provides over the phone and email communications other than visiting you at home or work to discuss your wooden floor options.
As such through the numerous chanels including a visit to the home, a quote was provided to a customer who had a tawa floor. The customer had seen a picture of a sanded, blonded, polyurethaned solid tawa floor on our website and this is what they wanted. Whilst they were travelling out of town during the first few days of the job, the Nufloors - flooring sanding Auckland team went to work, sanding to a fine finish and coating twice this beautiful blonded floor as per the customer had requested. Her mother who was overseeing the work was happy with the job thus far so when the customer was to arrive back we were excited for her to see the almost finished beautiful sanded blonded polyurethane tawa wooden floor.
"Thats not what I wanted", was her first remark as she entered the room to find us applying the third coat.. "WHAT??" No this blonded look was not what she wanted, more yellow... Well this is not possible with the waterbased application we have applied we explained. "Its not what I wanted I have sent you a link, I wanted the floor in the picture, if you couldnt do it you should have said so". Wow major mixed communication here. We know at Nufloors that we cannot guarantee any floor to look the same as a picture because of the variety of species, trees, features and general presentation but we had failed to mention this to the client. What could we do, the client was adament we were in the wrong and she wanted her floor, so we did the only thing we could... We left.. No of course we didnt, we resanded her floor and started again coating the floor with solvent based polyurethane which would of course provide the darker yellow looking finish. So then we had a happy customer right... not quite.. For some reason the polyurethane reacted as it does sometimes but nothing we couldnt fix, but then the client was still not happy with the colour finish "its too brown". Hmm although the vein in his forehead was starting to bulge it didnt deter Hugh. He wanted to make sure despite the challenges presented that we left this customer satisfied. So a 2.5 day job suddently became a 5 plus day job. Three samples had been completed over the week 1) Solid tawa floor5ing with waterbased clear polyurethane, 2) Solid tawa flooring with solvent based polyurethane and 3) Solid tawa flooring with blonded polyurethane finish.
As a last ditch attempt to make this customer happy the three samples were presented. This is what we can do with your floor please choose one and we will make it happen. The customer was also advised that it is the tint finish she needed to look at not the grain or the colour of the wood because her wood although tawa is different. She chose number 1) Solid tawa flooring with waterbased clear polyurethane. Yes for the third and final time we started sanding again.
There are many reasons to write this blog, a good learning for us, a clearer understanding for future customers and maybe a productive source for venting, however we look it at, the messages are clear.
1) Our Nufloors Auckland Floor Sanding team do care, and will always endevour to make our customers happy.
2) Although we pride ourselves in our ability to transform you floors we are not miracle workers and solid wooden flooring does come in different variences of colour so we we cannot always match to a picture.
3) Communication is the key to a happy customer and a beautiful floor. (Oh yes and perhaps less time on fixing things up).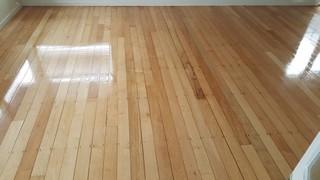 Pic 1 and 2 This is the solvent based coat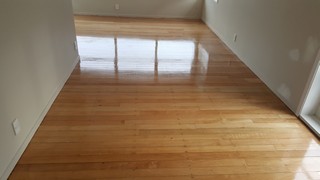 Pic 2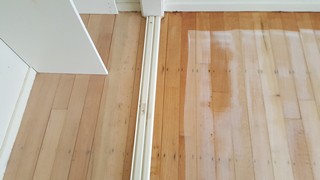 Pic 3 left = blonded finish Pic 3 right = part solvent finish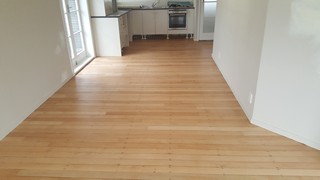 Pic 4 Waterbased matt finish - final decision. Tawa Flooring