Horopito
St
-
Kauri
Flooring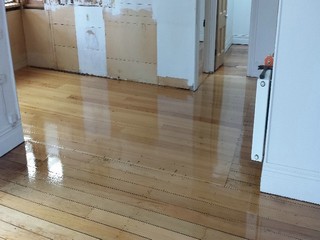 Horopito Street, Solvent base Polyurethane, Kauri timber flooring
Timber Species - Existing KauriTimber flooring
Scope of work - Uplift, repair flooring rough sand, Spot fill and fine sand
Finish - 3 coats of Solvent based finish low sheen

Can we fix it!. Yes we do! floor Repairs and restorations that's what we do. The boys had an exciting afternoon destroying the existing particle board extension. We will now walk through the process to create a new floor to match the existing kauri flooring
The boys geared up. Hammers crowbars and dynamite.. well we wish.. up and out the door went the old smelly particleboard into the Nufloors trailer and off to the tip.. Not too many plasters were used. Only few bruises all arms and legs still intact. while the customer was on the phone for timber. yes nobody had pre ordered the kauri flooring for the restoration.

Next job was to re knog the floor as the existing timber joist went the wrong way in the kitchen extension. New blade on the old trustee drop saw and away went went.. and still the customer had not found any matching Kauri flooring
After ringing many recycled timber yards, which to no avail, we found enough kauri flooring in Tauranga, ROAD TRIP - well for the customer so off he went early Saturday morning to get his kauri floorboards.

Monday arrived and hey presto! way we went, installing the recycled kauri flooring floorboards, the installation was relatively Quick with two the team members installing while another two floor sanders, were re-sanding the existing kauri.floors
While all this was happening the furniture pixies were in action furniture was appearing in rooms every night, so after a quick consultation with the customer, the furniture was stacked in the lounge so our floor sander could re-sand and finish the 3 bedrooms, kitchen dining etc,
When the polyurethane is dry we will move the furniture out of the lounge, and start floor sanding and polishing the lounge to match.

Horopito Street, Mt Eden Kauri Flooring Auckland Restoration wiritten by nufloors, Kauri wooden floor company
Horopito Street, Mt Eden
Follow the process through this floor restoration project, as nufloors uplifted the extension particle board, relayed recycled kauri flooring to match the existing kauri wood floor, the floor sander trowel filled all the gaps and holes then the floor sanding was completed, polished the wood floors with solvent-base polyurethane, 1 x sealer , 2x low sheen