Crummer
Rd
-
Kauri
Flooring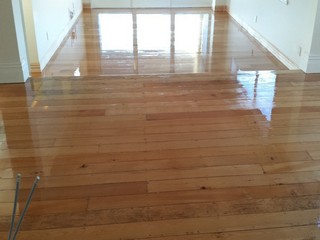 Crummer Road, Solvent base Polyurethane, Kauri wooden flooring, Trowel Filled, 3 coats of Low Shean Finish
Crummer Road in Grey Lynn was another floor done by Nufloors - Floor Sanding. On the customers request we supplied and laid a 12mm pre machined Kauri wooden flooring to the downstairs and upstairs lounges.The preparation for this floor was fairly easy with a half hour concrete grind finished with a coat of two pack water proof coat. The timber flooring was then installed by our layer over the course of two days.After that nothing was easy. The disorganized way the job was run meant that our team of floor sanders kept getting put off. When our team was finally able to start was on the Monday the week the owners wanted to shift in.
Though we now were under way this meant nothing as we had to battle our way around twenty other tradesmen trying to complete their own tasks. All using the only two power points in the house.
Our job is never really an easy one but it makes it harder when people can not organize the job properly. This makes the process that much harder to complete on time. However not to be outdone we worked a couple of late nights to complete by Friday morning ready for the customer to shift in on Saturday.
So Nufloors supplied and laid a kauri flooring. Then we sanded and polished that and the rest of the house to finish in time for the customer. Not bad. whilst all this was going on, the boss wanted to be a floor sander, so we gave him the staircase treads to coat in his garage.
So if you want a timber flooring installed give us a call. We can lay American white Oak, American Rustic Oak, New Zealand natives like Rimu, Tawa, Kauri and Matai. Including countless other types of flooring timbers.
We finish all our floors in a high-quality product. You have many choices here too. Water based, Solvent, Oil. and hard wax
This customer choose to have is floor trowel filled with a filler to match his orginal timber flooring and for the coating went with three coats of solvent based polyurethane with a Matt finish.
Crummer rd, Grey Lynn Kauri Flooring Written by hugh, Kauri floor sander