Mountain
View
Rd
-
Kauri
Flooring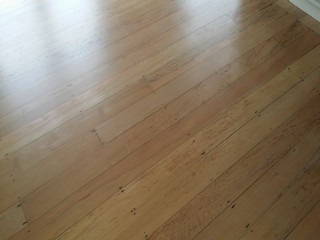 Mountain View rd, Kauri wooden flooring, water base finished with blonding
Timber Species - Existing Kauri wooden flooring
Scope of work - Sand flooring, fill, fine sand
Finish - 3 coats of Water based finish low sheen Blonded

Mountain View Rd job is a Kauri floor that had previously been done in solvent based polyurethane and aged. The customer had done extensive renovations to make this old classic looking house look great again. Newly painted and with a new kitchen it was time to have the floors redone.
It at this time that Nufloors comes to the aid and does what we do best. The owner wish to have clear water based polyurethane on the floor but once we started to sand she changed her mind to a white blonded system. This was no issue as we only had to go and get it.

A blonded floor can be a huge advantage to some floors because it can lighten it to make your room appear lighter. A great compliment to that old house with small windows. Though going white is the only colour you can go. See Nufloors Floor Sanding Auckland to see arrange of colours that you could have.
The floor sanding process wasn't as straightforward as we would have like. The old polyurethane wouldn't come off the timber flooring without a fight. When you go from solvent to water based polyurethane it is really important to make sure you sand all the old polyurethane off your wooden flooring or you can get discoloration coming through.

After the floor sanding was finished it down with the coatings. The coating system can be difficult to achieve especially if is a hot day. Water based polyurethane can dry very fast in the heat. However we got the floor coated and with three coats of blonded water based polyurethane on the floor the job was done.
The products we used was supplied by Handley Industries pre mixed. White colour in a Matt finish.