Clarence
St
-
Kauri
Flooring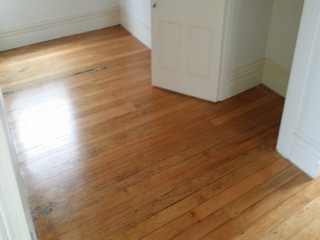 Clarence St, Ponsonby Kauri flooring water base matt Finish
Timber Species - Existing Kauri wooden flooring
Scope of work - Sand flooring, fill, fine sand
Finish - 3 coats of Water based finish low sheen

Clarence St is one of those very expensive houses in Ponsonby where you have no driveways and park on the street. First off I have to say that this is not my cup of tea. Now each to there own of course. And while their home is worth several million while my house is only worth 400k, give my house and location any day.
Now the second point to doing houses with no of street parking is our personal safety. Is there some written code that Aucklanders feel the need to drive faster when going past your tradesmen. Common. You live in multi-million dollar areas and yet can't slow down.
So now that you know the downside of working in suburban areas around the cbd on with the job. Now though I had a moan Nufloors Floor Sanding Auckland specializes in floor sanding around the city and outer district. This Kauri floor required a makeover. Of course that's nothing new as that is what we do.
We got in and got straight into the floor sanding and almost got the floor finished in a day. However due to some broken floorboards that needed to be glued we couldn't finish it till the next day. We use a polyurethane based glue that foams up and locks everything together. A floor Sanders best friend.
Next day had two coats of water based polyurethane put on the wooden floor. We then went back the last day and with a light sand we put the last coat on.
The Timber flooring was coated with water based polyurethane from Pullman with Matt as the last coat.