Cargill
St,
Matai
Flooring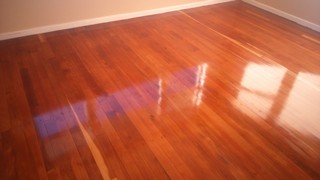 Cargill Street, Solvent based Polyurethane, Matai wooden flooring , Gloss Shean Finish
Timber Species - existing Mata Timber flooring
Scope of work - rough sand, Spot fill and fine sand
Finish - 3 coats of Solvent based finish low sheen

Today we are in the south. .. not the island but Papakura, south Auckland. Our floor sanders were off to Sunny papakura. As you can see from the photos this Matai flooring was in need on a professional floor sanding company. Nufloors flooring Auckland to the rescue.
Another rental being renovated for the market, wooden flooring is perfect for rental properties, after two days of floor sanding the wooden floor was ready for the coating process... as you can see from the photos a beautiful Matai wooden floor was restored. Click here for photos Sb Cargill
Cargill St, Papakura Matai Wood Flooring written by garath, floor sander