Waiari
Rd,
Matai
Flooring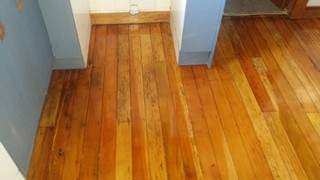 Waiari Rd, Solvent base Polyurethane, Matai flooring , 3 coats of Low Shean Finish
Timber Species - existing MataiTimber flooring
Scope of work - rough sand, Spot fill and fine sand
Finish - 3 coats of Solvent based finish low sheen

The concept of any man is to do up or renovate the family home. The handyman in us all may look at the removal of walls or maybe the renovation of the family bathroom. Maybe the painting of the family room. New kitchen. No problem. Out with the sledge hammer. Smash and bash? Does this sound like you. Or is this your husband.
The idea of doing your own renovations is saying to friends and family members that I did this. That I took this bad looking room and turned it into something that you can be proud of. Building, plumbing, electrical, Handy Sanders, plastering and painting. The handyman in us all have done proudly this work.
Sometimes though we need the assistance of an expert. Usually when we have completely buggered things up or that job that is just too far out of our league. However there is the cost factors that play an important part in this discussion. Sometimes the cost of having that Tradesman come in can be just too much for a person to financially handle
So here it is. You need your timber flooring done. Oh wow. This is going to be awesome. Hang on. How much. Bloody Hell. No worries I've got this. Down to the local hire center for a 8 inch belt drum sander and an edging machine. A what??. No sweat. Take the gear home and several hours or days later it's ready for coating. Brilliant. Of to Bunnings for some cheap polyurethane which you brush on and the jobs done.
So what do you end up with?. A beautiful finished wooden floor. Already to sell or shift back on too. NO. What you generally end up with is a really damaged floor that is now very hard to fix. The moral of the story is that some jobs are better left to the experts. And in the case of this job completed by Nufloors Floor Sanding Services Auckland and Hamilton we had a very hard job to make this one look great.
To truly appreciate how bad this floor was you need to look closely at the photos of the floor before and after. Has experts in our field we brought this matai floor back to life but only just. With three coats of solvent based polyurethane put on with a low sheen finish it really does make it look beautiful. Unlike our handyman our solvent based polyurethane was supplied by Handley Industries in Auckland.
Handley Industries has been supplying floor For full Photos Click Here Sb Waiari Rd