Uxbridge
St,
Matai
Flooring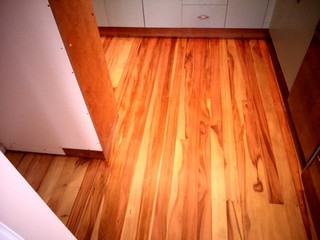 Uxbridge street, Water based Polyurethane, Matai flooring, 3 coats of Low Shean Finish
Uxbridge street Howick in another matai flooring job completed by our floor sanders. We arrived on site to find one square meter of particle board in the hallway . My head floor sander called me over to the site to work out a plan for this small flooring repair.
Nufloors was called into this home in howick. The new owners wanted the main living floors sanded and polished in water based polyurethane the only problem was one square meter of particle board in the hallway. No worries for our floor installers. out with the old particle in with the new. I need some coloured matai flooring to match... i know where there is some. road trip to dury
After a quick trip to pick up recycled timber flooring . Matai flooring I returned to the job to find this small patch ready for the recycled floor boards. Once the floor laying was completed guppy turned around his hat and became a floor sander again. The boys had a floor up to a fine finish lunch time the next day and applied the first two coats of water based polyurethane to this beautiful coloured matai floor.
With the final coat of water based polyurethane on the next day job completed and the customer moved in very happy. No smell no drying time.