Atkinson
Rd
-
Rimu
Flooring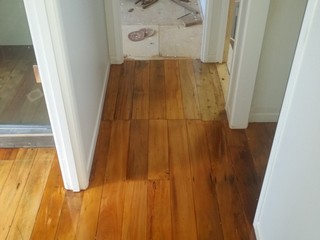 Atkinson Rd in Titirangi is only a small job but was a job that required some minor repairs to the timber flooring before we could even start the sanding process. Nufloors Floor Sanding company in Auckland specializes in repairs of your timber hardwood flooring and this job was no different.
The problem with this one was that we had no timber on us to do the repairs so with the blessings of the owner we cut out part of the floor in a bedroom. Which was fine as it was going to be carpeted. We had two boards to replace in front of the shower and two in the hallway and two bungs in the laundry. No sweat.

With the repairs complete it was full speed ahead with the floor sanding and coating of this matai and other bits I couldn't identify. Now the floor condition was pretty rough due to the owner painting everything but my minion and I still made short work of this floor getting it completed in a day.

Nufloors Floor Sanding Experts can repair damaged flooring or we can supply and lay a huge range of timber species for you. Everything from our New Zealand natives to Australian Oaks to American Oak. We can repair and replace most damaged floorboards to match your existing floors. Though this is subject to availability and where we can get the timber flooring from.

The floor was coated with solvent based polyurethane from Handley Industries.