Boundary
Rd
-
Rimu
Flooring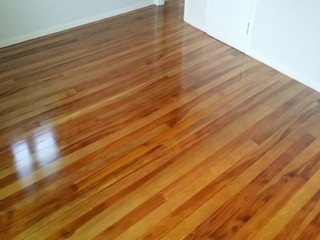 Boundary Rd - Rimu Flooring
Timber Species - existing Rimu Timber flooring
Scope of work - rough sand, fill then fine sand
Finish - 3 coats of solvent based finish low sheen
Boundary rd Papakura in South Auckland was a flooring job we love to do.. the before photos show an existing polyurethane job that's looks in reasonable condition. But the dining was badly sun damaged and so were various other parts of the floor.
This customer had decided to relocate to Tauranga. Lucky them .. they had organized long term tenants and wanted the house in pristine condition before they undertook their new journey south to Tauranga. This is where nufloors comes in. We were asked to resand the floor.. fix several problem areas and polyurethane in a low sheen finish to make the house feel new and fresh again.
Some of the rooms the house had previously settled and the owners has the house re-piled to fix this meaning we had some hard floor sanding to get this rimu floor flat again. We had the whole team on site.. even the boss.. 4 guys 2 days and most of the work was knocked out.
This timber flooring was looking like new. The A team arrived on the third day to finish sanding floors on this job. Three coats of solvent based polyurethane from Handley's industries was chosen for this wooden flooring.
Job done for full photos click here SB Boundary Rd