Treelawn
Rd,
Rimu
Flooring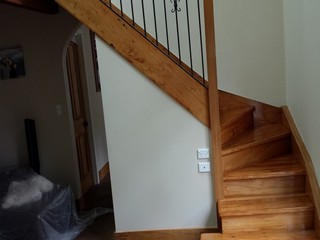 Trelawn rd, Howick - Solvent based Polyurethane, Rimu flooring, Trowel Filled, Low Shean Finish
Nufloors do floor sanding Auckland wide. Cockle Bay is one such place. Our team of two came into this heart Rimu timber floor and started to work their magic. Now I'm sure there are times when you would like to ask your floor sander to do something extra. In this case the extra happened to be a hardwood beam and 60mm Solid wood flooring. See the pictures of the before and after.
This was another job that required more effort for the floor sanders. With the upstairs floors needing to be re sanded and big gaps showing through to the bottom level, this rimu timber floor required the need of trowel filling.
So with the first floor sanding process completed it was time to trowel fill the timber flooring. Not once but twice. Once done it was back to the sanding and polishing of this priceless timber floor. Our floor sanders also did the stairs and the stair stringer that faced into the lounge to maintain a flow from upstairs, the stairs and the lounge.
Again see some of the pictures. see the photos in our Gallery
With all this done the polyurethane went down without a hitch and made this old rimu floor look new and beautiful again. Nothing can beat it. That's why we love what we do.
Old Bathroom Floor Before our floor sanding Auckland guys started
Beautiful, Another polished floor by our floor sanders
The Old Beam, before we re sanded this feature
The Finished result,
written by hugh, floor sander to nufloors, wooden floor company