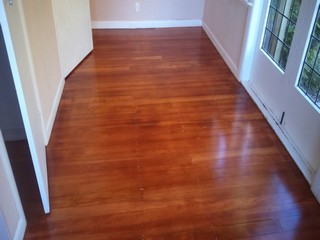 Pook Rd, Pukekohe - Solvent based Polyurethane, Rimu flooring, 3 coats of Low Shean Finish
Pook Rd Rimu timber flooring, is on the edge of Tuakau with a very rural outlook. Very nice place to live for us country folk. The new owners of this priceless property decided that the house was in need of a makeover. So paint was slapped on the walls then the old carpet was ripped up ready for the floor sanding. With the floor coverings pulled up repairs to the floor was discovered.

Off course this is where Nufloors comes in. The owner rang us with his discovery and we jumped into action.
Nufloors specializes in timber floor repairs and this is part of what we do. We rang our supplier and ordered the hardwood flooring required for the floor repairs. Once picked up we shot down to Tuakau and ripped up the broken floorboards and replaced them with new ones.
Our trusty little minions ( or specialized floor sanders ) if you like, then got underway floor sanding the floor on this beautiful home. With four coats of solvent based varnish in a low sheen finish put on the floor the job was done.

Remember that no matter where you, from the Waikato, Franklin, West Auckland or the North Shore we can cover your floor with a brand new Nufloor.
Many people ask us if their floor is repairable. We specialize in all floor repairs. We have ripped up old particle board and replaced it with new tongue and groove flooring. We've jack hammered concrete pads up laid new joists and laid new flooring. So really nothing is impossible. So if you're not sure if your floor can be fixed give us a call first.

Check out all the photos for this job in our Gallery click Here Sb Pook Rd
Pook rd, Buckland Written by hugh head floor sander