East
Coast
Rd,
Tawa
Flooring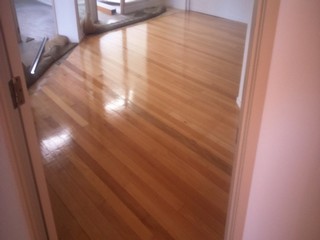 East Coast rd, Takapuna - Water based Polyurethane, Tawa flooring, 3 coats of Low Shean Finish
Timber Species - Existing Tawa Timber flooring
Scope of work - rough sand, Spot fill and fine sand
Finish - 3 coats of Water based finish low sheen

Quite often we do jobs that are on the second level of a block of shops. In this case, we were on Takapuna doing a tawa wooden flooring job above a butcher. It was a concern if we used traditional solvent based Polyurethane so we recommend a non-smelly product, in this case, bona traffic hd was chosen as it dries very quickly and meets the council regulations.

Our floor sanders were on site at 3 pm as the butcher shop was winding down for the day and buy the time the boys had all the gear upstairs ready to start floor sanding the butcher was ready to close for the day. Our guys had the main floor sander back down stairs in the van buy 6 and continued the floor sanding process until 7 when they called it a day. Upon return the next day they had a few hours work to complete the sanding of the tawa timber flooring.
Next we applied 3 Coats of bona traffic hd while the butcher shop was still open.. no worries no smell or toxins. . Job complete in the north shore.
Photos Here Wb East Coast
East Coast rd, Caster Bay Tawa wooden Flooring Written By Dazzza Floor sanding expert