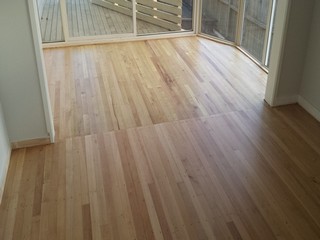 David avenue, Manurewa - Water based Polyurethane, Tawa Flooring, 3 coats of Low Shean Finish
Timber Species - existing Tawa Timber flooring
Scope of work - rough sand, Spot fill and fine sand
Finish - 3 coats of Water based finish low sheen

Now remember that I mentioned that we do a lot of floor sanding work for one customer. Hang on. Copy and past. We do between ten to twenty houses a year for this customer with set prices and guidelines. For example we always come in and do a prep sand the wooden flooring in the kitchen before the new kitchen goes in. See I did say that. A haha So David Rd was prep sanded by me and this week I went in and finished the floor sanding. Now the timber flooring is a beautiful New Zealand native. Tawa.

Now Mrs M. Can't use her real name. Privacy act and all that asked if this one could be blonde for her. No sweat. Mr M wasn't to keen. However as always, that is trying to be helpful I suggested that in this case the natural beauty of the hardwood floors would be better suited in clear.
So Mr and Mrs M decided that water based polyurethane was the go. So with new information on hand we got to coating this job with a beautiful result. This was quite a mixed bag for this wooden flooring as we trowel filled as well to make sure that all the gaps were filled.

Normally Nufloors wouldn't suggest trowel filling a floor as the floor moves a lot with the seasons. However if you want you can have. Photos Here Wb David Av
David Rd, Manurewa Tawa wooden flooring Written By Hugh, Tawa floor sander, flooring auckland