Maraetai
Rd,
Tawa
Flooring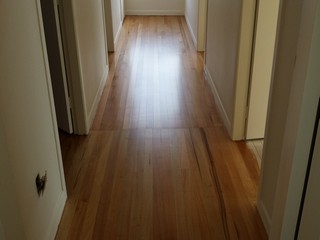 Maraetai Rd, Maraetai - Solvent base Polyurethane, Tawa flooring, Low Shean Finish
Timber Species - existing Tawa Timber flooring
Scope of work - rough sand, trowel fill then fine sand
Finish - 3 coats of Solvent based finish low shean

This run down house with its run down floors couldn't have been in a better location. Across the street from the beach and wharf. How cool is that. So run down. A little bit but the work going into meant this house was going to look very impressive when it was finished.
So this job consisted of a upstairs and down stairs areas. Both areas where not short of work to get to fine sanding stages. Downstairs especially was so bad that our floor sander had to spend a whole day concrete grinding before our big machine could start floor sanding.
Our floor sanders put in a lot of hard work into this one over a period of time and two different teams worked on it over a few months. A few months you say. Well we were working within the time frame of the builders. So it was only when we got a full week in that we got it under control and the sanding finished.
Unfortunately, though we still had two sets of stairs to complete as well. This was again no easy task. But with the two boys on it then some help from me we got that sorted too. Some days nothing comes easy.
However when all is said and done we got the timber flooring job completed on time and the finished product was perfection at its finest.
The floor was finished with Handley's low sheen solvent based polyurethane.