Washington
St,
Tawa
Flooring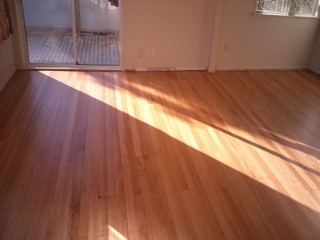 Washington rd, Mt Wellington - Solvent based Polyurethane, Tawa flooring, 3 coats of Gloss Finish
Timber Species - existing Tawa Timber flooring
Scope of work - rough sand, trowel fill then fine sand
Finish - 3 coats of Solvent based finish low sheen

Tawa Timber flooring - Washington ave, Glendowie This house was recently brought by our customer and all the family had dust allergies or asthma. So having the timber flooring done was very important to the family. The team at Nufloors arrived to the address to find that there was carpet in the whole house bar the kitchen dining and bathroom. So it was up with old carpet and an afternoon of pulling out nails and staples. What fun.
Once we had a couple of rooms clear I was able to get the big machine going and start floor sanding this narrow board Tawa flooring and it started to look good.
The other team of floor sanders came to the rescue the next day to a very fun day of lifting the tiles in the kitchen dining so that the floor could be sanded and polyurethaned as well. Everything was moving along nicely with two lifting the tiles and two sanding away we made excellent progress.
By end of day two it was down to the fine sanding the wooden flooring.
Day three saw team two finishing up and putting two coats on the floor. Over the next two days the team came back and put more coats of water based polyurethane on to have the floor finished to a high standard. This Tawa floor now looks smashing and ready for the customer to enjoy.