The
Oaks
-
Engineered
Flooring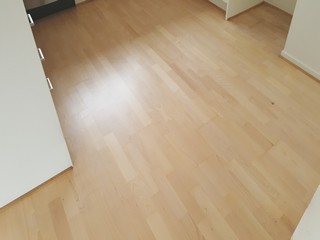 Timber Species - American Oak engineered Timber flooring
Scope of work - rough sand, trowel fill then fine sand
Finish - 3 coats of Water based finish low sheen

The Oaks, Engineered Flooring - Ellerslie. Nufloors had the opportunity to do a house in the Oaks. This pre-finished hardwood flooring was well past the need to be resanded. The entrance way off the deck had gotten so bad that it had worn through the pre finished coatings. Not the only place with damage the floor was going to be redone by us.
Having done many engineered hardwood floors with Nufloors, Floor Sanding Services Auckland. This was an easy task. Well it goes to show that looks can be deceiving. What should have been a few hours of floor sanding turned into a long task that took us over half a day to complete. With three coats of high quality water based polyurethane on it see you later and on to the next job.
Engineered flooring comes in all shapes and sizes. Generally speaking it is usually a oak timber like American Oak. This type of pre-finished hardwood is quite common in New Zealand. Usually in a white finish, it would have looked quite stunning when it was originally put down. However maintaining a pre-finished hardwood floor is almost impossible.
Don't worry about it though because Nufloors can come to the rescue and Make your floor look brand new again in either a natural finish or coloured if you prefer. Covering Auckland and Hamilton we can come to you and give you a free quote to have your floors sanded and polyurethaned.
For Full Photos Click Here Wb The oaks