Graham
St
-
Jarrah
Flooring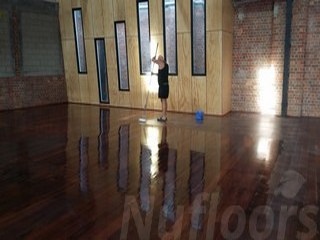 Graham St, Jarrah Flooring, Waterbase Polyurethane
Timber Species - existing Jarrah Timber flooring
Scope of work - rough sand, trowel fill then fine sand
Finish - 3 coats of Solvent based finish low sheen

Jarrah Wooden flooring - Graham street, Auckland Nufloors specializes in commercial buildings and we put a tender in for Graham St with Bindon Construction. Upon accepting our Price we organized with Bindon to start floor sanding the jarrah flooring. About the floor. The floor was in a pretty bad state and required a lot of floor sanding. The timber that our team were floor sanding is Jarrah.
So in our City of Auckland you will find that most of the pre 1950s buildings will more than likely have jarrah in it. Though jarrah flooring is a hard timber it comes up beautifully. So in the case of the Bindon job this 100 year old jarrah hardwood floor needed a 26 grit to get it flat. Once that was done a 24 grit than a 40 grit was then completed.
On this timber floor we had to spend a lot of time epoxying the bigger cracks in the hardwood flooring. We then did something we had never done on a commercial floor. We trowel filled the whole floor. Eight buckets were used to trowel fill the timber flooring. we need more handy sanders to help.
After that Nufloors continued on with the fine floor sanding stages to get this now beautiful floor ready for coating. Including two sets of stairs, and two landings. Now one landing ( see pic for that ) required one of our more skinner floor sander, to complete. This job came with many challenges, but we got it all completed in the end with three coats of water based polyurethane used.
The polyurethane is a Pullman product finished with a semi gloss coat two pack polyurethane.
For full Photos click Here Wb Graham St