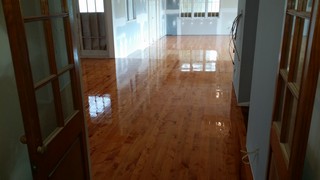 Timber Species - Microcarpa
Scope of work - rough sand, trowel fill then fine sand
Finish - 3 coats of solvent finish low sheen

The Nufloors 4U Floor Sanding team Auckland went in and resanded this Microcarpa hardwood floor for the customer during a complete home renovation.
The Microcarpa was looking tired and battered so our floor sanding team went in sanded the floor giving the place a new lease on life. What a difference! Once the polyurethane coats went down the transformation was amazing.
The job was in Buckland Road, Pukekohe. The property had a country outlook and at completion the beautifully restored wooden flooring ended up being more of an attraction thancomplemented the charming homestead and the surrounding green pastures. Fortunatley the weather was warm and fine so the floor sanding and coating of this hardwood flooring was done quickly with no fuss.
The polyurethane is a solvent based polyurethane which perfect for hard wearing floors and busy family homes.
For Full Photos Click Here Microcrpa- Buckland