KLC
Tonga
-
Parquet
Flooring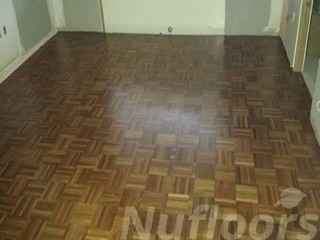 Klc Tonga, Parquet flooring, Trowel Filled, Satin Finish
Timber Species - existing brush box Australian parquet flooring
Scope of work - fly to Tonga, repair flooring, rough sand, Spot fill and fine sand
Finish - 3 coats of Water based finish low sheen
Parquet wooden flooring - Tonga Now if you happen to be doing a Google search using keywords like floor sanding Auckland, floor sander Auckland or floor sanders Auckland we will come up in the search results somewhere. Now with any luck if you search floor sander Tonga, floor sanding Tonga or floor sanders Tonga we should come up. Why you might ask?
Well last week Nufloors Floor Sanding Services Auckland was in Tonga. Tonga being part of the pacific islands. Holiday? Well kind of. A working holiday. So who went to this little island in the Pacific? Daryl and myself ( Hugh ).
So let's go back to the start. KLAVENES CONSTRUCTION LTD TONGA is a construction company based in Auckland and Tonga. Knut Klavene asked us if we would fly all the way to Tonga to sand and polyurethane some parquet flooring for him. Well with all expenses paid for who are we to complain.
So with klavenes construction having our gear over there for us the two old boys jumped on a plane to the kingdom of tonga. So the parquetry floor was only to take these two old fellas two and half days to do so with a week up our sleeve this was going to be a easy working holiday.
So having arrived at the airport on Thursday night and picked up by one of Knuts trusty staff it was to the hotel to check in then off to the bar for several drinks.
Now the next day being Friday we were collected by Knut Klavene from KCL and taken down to the site to get down to the business of floor sanding his floor. Wrong. Lay day. Yeah. Right, with a plan to meet up at the local known as the Billfisher it was time to explore oh and eat.
After a morning in town having a look around than brunch at a nice place called Friends it was back to the hotel for a quick nana nap before going to the Billfisher for tea and drinks. So after a feed then lots and lots and lots of bourbon we were both written off. Taxi please.
Saturday. On a bright notei was on form and ready to go while my mate took a more slower, ok very slow approach to the day. However by days end we had Knuts floor all rough sanded, trowel filled and 80 grit completed. Now no one can complain about that. Sunday would see it finished and have two or three coats on it.
Wrong again. Unfortunately or fortunately most people don't work Sundays in Tonga. Gotta love that. With all the local bars closed it was of too Pangaimotu Island. Also known as Big Mama yacht club for the day. What a beautiful piece of paradise that island is. And the food.
Monday saw us back sanding this 80 square meters of parquetry flooring and having not one, not two, but three coats of water based polyurethane on by the end of the day. Hell yeah. Not bad for a couple of old buggers.
Tuesday saw us back to the floor doing some prep then disking and coating putting on the last coat. Work completed. Holiday time. Tuesday night saw back at the Billfisher to celebrate the completion of our job with lots more drinking. Now the Billfisher for those who don't know is the best place to go to when in Tonga. The food is awesome and happy hour is from 5pm to 7pm every night.
Wednesday saw us out in a rental car thanks to Knut Klavene. We were supposed to go deep sea fishing however the weather wasn't the best so it was drive time. Over the course of the day we managed to get around the whole Island while stopping for a drink or two along the way. After all that it was back to the hotel to refresh then back to the Billfisher for our last night in town. Two o'clock in the morning saw me back at the hotel for bed. What a night.
Thursday saw us having a lazy day as our plane didn't leave till 10pm that night. At 6.30pm we got picked up to go and have dinner with Knut and his staff. We arrived at the airport late. Got into trouble and had a awesome time. We arrived back in auckland at midnight to get back to Daryls by 1.30am.
We had an awesome time in Tonga and we wish to thank Knut Klavene from KCL and his staff for l
ooking after us and making our stay in Tonga memorable