Mackelvie
St
-
Tasmanian
Oak
Flooring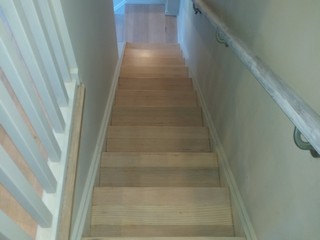 Mackelvie St - Tasmanian Oak Flooring
Timber Species - existing Tasmanian Oak Timber flooring
Scope of work - rough sand, fill then fine sand
Finish - 3 coats of water based finish low sheen

The owners of this house wanted their floors done to sell their house. This meant that the floors needed to be resanded to make them look new again. Though it was done in solvent based polyurethane that decided to go to water based instead. Then changed again to a blonding system ???
For the most part, the job went quickly and efficiently until we got to the stairs. Nufloors can do any stairs however it can be a dusty time-consuming job. But no matter. We got it done and coated. It was after the first coat went on that they decided on a white finish.
For the floor Sanders doing your floor, it is very important that you have already decided on how you want your floors finished before we even get there. But it possible to change on the fly and do something different if required. Though this could delay the process and finish date.
In the end though we got it done and the results were pleasing. So the floor was finished with a water based polyurethane from Handley Industries and was pre finished in white.