Tyldens
rd
Clevedon
-
Tasmanian
Oak
Parquet
flooring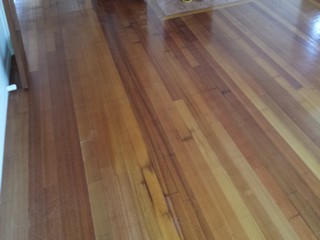 Timber Species - existing Tasmanian Oak Parquet Timber flooring
Scope of work - Epoxy water damaged concrete floor, install new parquet flooring blocks, rough sand, trowel fill then fine sand
Finish - 3 coats of Solvent based finish low sheen

Tyldens rd Clevedon - Tasmanian Oak Parquet wooden flooring Tyldens rd is on the outskirts of Clevedon with a rural setting. A Spanish style home with parquetry flooring over most of the house. The parquetry is a 350mm long and was laid on site many years ago. The timber is Tasmanian Oak.
The owner lives in the United States and emailed us to go and measure and quote to sand and polyurethane this big floor. Included in the quote was to supply and install two areas that needed repairing. He was coming over to see the house and catch up with family and friends so we meet on site to discuss in more detail the out come for the repairs and sand.
Once this was discussed we ordered the timber to be made as this size was no longer available. Once the timber was organized by Nufloors we got underway floor sanding this Tasmanian Oak hardwood parquetry flooring.
our floor sanders required two full days of sanding then we had to trowel fill the floor . After completing this stage of the job we epoxied the concrete were the new timber was getting laid to dry over night. By this stage our timber was ready to go, so while Daryl went and picked it up we got on to the fine sanding stages of the house.
Once Daryl turned up with the new timber we got underway laying it down to match the existing floor. Once this part was completed we left it over night for the glue to set.
The next day saw us sanding the repaired area and finishing of the rest of the floor. After that it was coating time. Three coats later and the job was done.
Materials used. Tasmanian Oak hardwood floor boards from South Pacific Timber. Handley's solvent based polyurethane with low sheen solvent based polyurethane as the top coat.