Motutau
rd,
papatoetoe
-
Cork
Flooring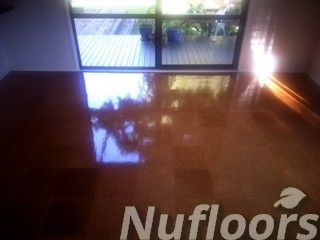 Motutau Rd, Solvent base Polyurethane, Cork flooring, 4 coats of Gloss Finish
Resand and Finish existing cork flooring
Scope of work - rough sand, trowel fill then fine sand
Finish - 3 coats of Water based finish low sheen

Nufloors Floor Sanding Auckland supplies and lays cork tiles all the time but in the case of this job we can take no credit for the supply and lay of the cork. We can however take full responsibility for the re sanding of this job.
It turns out that there was a breakdown in communication between us and the flooring Company and we didn't find out about it till the last minute. Now at this point we all need to remember that a good company comes with many different benefits and been able to get a job through quickly is very important. Not to mention good business.
When it comes to re sanding a cork floor there is never any guarantee as cork is very soft and not many floor Sanders can successfully complete the process without sanding through it. But I have done far too many to count and have never sanded through one yet.
So we got our machine in and got straight into it. We started with a 40 grit and work our way through the grits until we had completed. Once the spinning was done it was discing time. Now for a cork floor the discing is the most important part of the job as it this process that gets all the machine marks out and most importantly gets the floor flat.
Be warned that most Floor Sanders only put three coats of solvent based polyurethane on. Always make sure and check that four coats of solvent based polyurethane is put on your cork.
So with all of that we put on a sealer coat then two coats of gloss followed by a low sheen finish. Four coats over three days. All coats were done with Handley Industries products. The polyurethane is solvent based.