Seaview
Rd,
Remuera
-
Cork
Flooring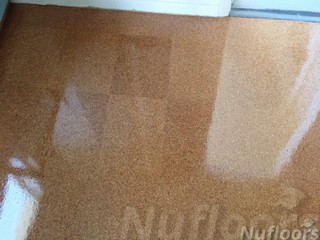 Seaview Road, Solvent based Polyurethane, Cork flooring, 3 coats of Gloss Finish
So the general rule is, you can re sand cork tiles only once so you need to make sure that there has not been a floor sander before. Otherwise it could end in a disaster. In this case it was clear as the tiles were in perfect condition so it was all systems go for resurfacing.
When resurfacing cork flooring there is always a risk that you may sand through it so it is a job that only our most experienced floor sanding team will do. And in this case we had our most experienced team doing this job to the relief of the customer. Nufloors as been doing many cork re sands so we had this job done in four hours with three coats on it.
Alright, So this job was a 20 square meter resand of a old cork tiles floor. Now I can tell you that the cork flooring was laid twenty years ago in 1995 to be exact. Pretty good information I reckon. Helps when you talk to the customer. So as a general rule you can re sand cork tiles only once so you need to make sure that it has not been sanded before. Otherwise it will end in a disaster. Now in this case it had not so it was all systems go for re sanding.
When re sanding cork flooring there is always a risk that you may sand through it so it is a job that only our most experienced team will do. And in this case we had our most experienced team doing this job to the relief of the customer. Nufloors as been doing many cork re sands so we had this job done in four hours with three coats on it.
With the fourth coat on in a low sheen the cork flooring job was finished looking better than when it was done in 1995. Check out the pictures in our gallery.Sb Seaview rd
Seaview Rd Remuera. Cork Tiles Written By Hugh, Cork flooring master