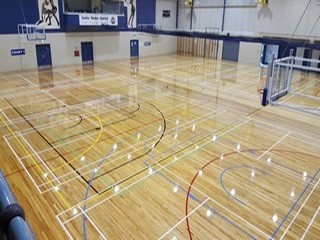 The Papatoetoe Hall, Allan Brewster Leisure Centre. I have had the pleasure of writing blogs on another hall we have done in South Auckland for DTZ. The Bruce Pullman Centre comes in at a whopping 1200 square meters and is the biggest hall floor project I have done with Nufloors Floor Sanding Services in one go.
As is often the case, these types of timber floors are completed over the Christmas and New Year's period. This allows for places to close down like the onsite Day Care Centre, which has a twofold advantage for both our company and the client. It allows us direct access to all flooring which enables us to keep to tight timeframes. In addition, it means those precious little people are not exposed to the disruption and smells of the floor sanding process. Also staff can enjoy a break with the prospect of a beautifully finished wooden floor on their return.
Like any business over this time we had our own issues with lack of staff. However, not to be deterred we got on with the timber flooring job. There were three of us on site running the big machines and a boy punching and filing the nails.
So we started this massive tawa floor on the Monday. By Thursday lunch time on Christmas Eve, it was almost completed. Sunday saw us back at it, and by lunch time we were under way with the coating process.

Monday morning at 7 am we were back at the hall where we spent several hours discing, vacuum and cleaning ready for coating. We would like to highlight that these days are the Sunday and Monday after Boxing Day. This is the dedication that the Nufloors team supplies again and again. At the end of the day it's about getting the job done and done right.

Tuesday saw us back again discing, vacuum and cleaning ready for the line marker to do his thing. 25 courts and nearly two weeks later after a well-deserved break we were back to put on the last coat on the tawa timber flooring. Completed on time. Perfect.
Polyurethane supplied by Handly Industries