Clendon
Hall
-
Hall
flooring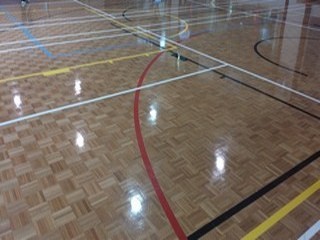 Clendon Hall, Solvent base Polyurethane, Parquet flooring, 3 coats of Gloss Finish
Timber Species - existing Paerqet Timber flooring
Scope of work - rough sand, Spot fill and fine sand
Finish - 3 coats of Solvent based finish Gloss

Clendon Hall Flooring - flooring Auckland. This week our team of floor sanders have been on the Clendon community hall resurfacing 550 meters of solid wooden floors.
Monday saw us rolling three big floor sanding machines in through the side door. Hugh, our head floor sander put his game plan into action and recalled me back onto the floor behind one of those machines. Andrew our apprentice was on the spinner for the first half of the day and was eager to get behind my big machine for the first time. Yes training, always training the younger workers. Over the years I have trained many young floor sanders and Andrew was up to the task.. it was after lunch time and after 5 minutes verbal instruction we turned on the floor sander and he was away.
Patiently I waited beside him for further instructions but after 20 min he was away.. I Continued to watch over him as he worked.. the hours rolled away and the day ended with the first cut over the whole parkay flooring.

Day 2 arrived with sore legs for the old and new. Today we taught Andrew to change the sand paper on the machine and with a smile he was back into the job. Sticking to Hughs game plans we were on track, at the end of the day there was a few parkay flooring repairs to do. Resetting the wooden blocks back down with glue and the day was won.
Day 3 after a late start we had a target in mind, the big machining to be completed, and most of the final disc sanding to be completed. We are on track to get the floor coated of the 4th day and be ready for the line markers to arrive just before Christmas. This parkay flooring is on track to be completed by the end of the year and our second goal of staff training was also a success. Andrew our young appreciate was by the end of day 3, was able to sand behind a big machine and change the floor sanding paper. Photos of the whole oak flooring nz job click Here Clendon Hall
Written By Daryl parquet Floor sander
these photos are of the clendon community hall floor, its one of many hall flooring jobs we have done over the years. You can follow the floor sanding as we strip the old poly off the parquet floor, our floor sanders had the oak flooring ready to coat after 4 days, next came the line marking and finally the last coat. 550 meters of parquet flooring lloking like new again

Clendon community Hall parquet oak flooring - Since being back with this Auckland floor sanding company, this is the first hall of this size I have done with Darly. At 550 square meters it isn't the largest one I've done but as stated earlier it is the large parquet flooring job I have done in a while. Though the Papakura Community Hall floor that we start on the 29th of December comes in at 750 square meters. I'll be writing something about that wooden floor next year.
So back to Clendon sports floor. Nufloors decided to attack this parquet flooring with a vengeance. So it was off to hire a galaxy drum/belt floor sander. This was driven by our most experienced floor sander. Oh that's me. Dam. The reason being is that it's suppose to be a man's machine. Don't know about that but all good.
So away, we went with three machines going hard out. Daryl, Guppy and myself went hard for the first two days then as Daryl stated in his blog it was Andrews turn to learn to drum sand wooden flooring, well parquet flooring
Over the next four days we were hard at it, floor sanding and re sanding this 550 square meters of parquet flooring, we needed to have the parquet flooring ready for coating by lunch time on Thursday.
The next step was to coat the parquet tile floor with polyurethane. Piece of cake. Two hours from start to finish and the floor was coated. God bless speed bars. Friday was a quick disc and vacuum and we were ready for the second coat. I Needed more speed so we purchased a bigger speed bar to coat the oak flooring. Time check and away we went. One hour later we had it done.
Saturday was a good disc back a vacuum clean and it was all up to the line markers. So with job it was all over till next year when we come back to but the last coat of polish on the floor.
Photos Here Clendon Hall
Happy New year, we are back, so with the line marker finished we were up to the last stage. the final coat on the beautiful parquet flooring sports floor. Oak flooring nz Job Completed by our floor sanders
written by hugh, sports flooring auckland