The
Block
NZ
with
Ling
and
Zing
2017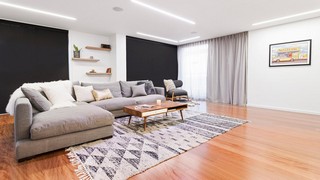 With "The Block NZ" over and done with we at Nufloors finally get the all go to discuss our role in this last television series. Go Purple was all we could say during the series. Yes Nufloors are known for our Floors sanders Auckland team however we offer so much more in regards to our flooring services. As you will see from our previous blogs we also supply and install solid wood, laminate flooring and lets not forget the awesome quality engineered flooring, which is why we were contacted by the Ling and Zing team. Unlike the other three properties, house one is the only house without laminate flooring. What is the difference you ask? Well although they can look similar from the surface, appearing as a wooden floor, laminate flooring can not be sanded so if this flooring sustains serious damage, it has to be replaced. Engineered flooring however is constructed out of layers of solid wood and can be resanded further down the track. Anyway back to the block story... The Ling and Zing team were looking for an alternative option to laminate flooring... Timeframes and budget were crucial factors as were quality product (of course)......
Our Nufloors Auckland Floorsanding team and Wooden floor installation experts do our utmost to ensure customer satisfaction so we went straight to action. After a couple of discussions the Brush Box from our H&M Walk Australian Hardwood range 186mm x 14.5mm was selected. At around $80 per m2 this product is great quality at an excellent price.
Some great negotiating was completed with "The Wolf" and our product was delivered and laid with no problems. As you will see from the following photos the flooring looked amazing! In fact Zing and Ling went on to have their first win with their completed living area.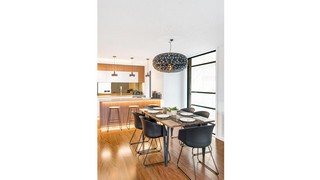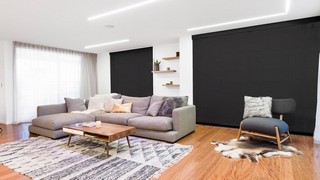 So impressed with their floor, Nufloors was asked to lay downstairs in the powder room and entrance as well.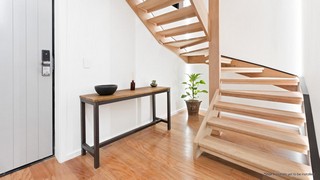 Ling and Zing were great characters just as seen on t.v and our Nufloors team loved have the opportunity to work with them on this amazing project.