Cameron
Rd,
Tawa
Flooring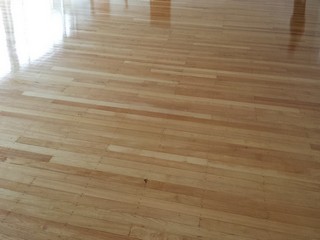 Cameron Rd, Mangere - Solvent based Polyurethane, Tawa flooring, 3 coats of Gloss Finish
Timber Species - existing Tawa Timber flooring
Scope of work - rough sand, trowel fill then fine sand
Finish - 3 coats of Solvent based finish low sheen

Cameron Rd is a Council Building in Onehunga consisting of around 150 square meters of really damaged Tawa flooring. This is a job for the A team.
So with my trusty little minion floor sander Guppy we went and gave this old floor a kick in the but. Over a day we smashed this floor with all we had. This is not the first community hall we have done. Has the old saying goes " This is not my first rodeo son ". Lol. I had to use those words in a blog somewhere.
By the end of day one we had all the rough sanding completed and some of the fine done. Day two saw the floor sanders finishing the fine floor sanding and getting two coats on the floor. Damn amazing really that two guys could get 150 square meters done in two days. Day three had the last coat on and all over rover.
Nufloors as done Community Centers all over the place with the most recent flooring Auckland jobs being the Clendon community Hall, Papakura Community Center and a couple of others in west Auckland that I wasn't involved in. If you have a hall to do give us a call. We have the manpower to do any size hall.
Tawa Flooring, Old sun damaged, and in need of a make over Finished in solvent based polyurethane 3 coats of gloss finish
For full photos click Here Sb Cameron
Cameron Rd, Onehunga - Tawa Timber Flooring Written by Hugh, Flooring specialist auckland