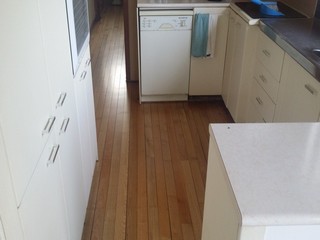 Colmar Rd, Papatoetoe - Solvent based Polyurethane, Tawa flooring, 3 coats of Low Shean Finish
Timber Species - existing Tawa Timber flooring
Scope of work - rough sand, then fine sand
Finish - 2 coats of Water-based finish low sheen

Colmar rd, Howick - Tawa timber Flooring This was another floor sanding job that needed to be completed in a short time frame. Nufloors was asked can we stay in the house while the flooring job is being completed. The answer of course was yes.
Day one . the floor sander stripped off the existing Polyurethane and the applied two coats on a non toxic fast drying water based polyurethane onto the timber flooring. The owners were at work and then had dinner out. When they returned home they were able to walk over the timber floor.
Day two. The floor sander returned and prepared the wooden flooring for the final coats. By midday he was finished and was out the door with another two coats applied to this wooden floor. Job complete. And of course when the family returned home the wood floor was dry.
Photos are if the old solvent based floor and the new non toxic water based floor