Scene
3
Unit
3
-
Engineered
Flooring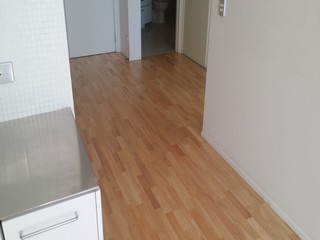 Scene 3 Unit 3 - Engineered Flooring
Timber Species - American Oak Engineered Timber flooring
Scope of work - rough sand, fill then fine sand
Finish - 3 coats of Water based finish low shean

Nufloors as now completed its 5th floor at the scene 3 apartment complex in the city. This pre-finished engineered floor was in a worst condition than the other counter parts that we had done in the past with deep scratches in the floor this was one of those jobs that was going to take longer than expected.
However as always if the going gets tough the tough get going. So my trusted nephew Aaron and I got in and did what we do best, Floor sanding. Un like the other floors that we have done before at the Scene this one was the first two bedroom apartment I have done. This also meant that the areas that we were doing was bigger adding to the time.
However all said and done we made good progress and got the engineered flooring completed. With the hardwood flooring all coated in water basedpolyurethane this was another floor completed by Nufloors.
The timber floor was coated with a Pullman water based system.
Engineered wood flooring cost is related to the type of the sanding, the quality of the engineered timber so all factors need to be considered before installing in a high wear, or sun prone job, always get a professional to help you make your final choice.