Index
Place
-
Tasmanian
Oak
Flooring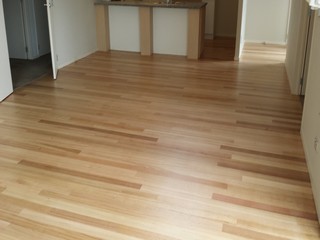 Timber Species - existing Tasmanian Oak Timber flooring
Scope of work - rough sand, trowel fill then fine sand
Finish - 3 coats of 2 pack water based finish low sheen

Index Place, The Gardens - Tasmanian Oak hardwood flooring This is another floor done by Nufloors Floor Sanding Auckland and Hamilton. The Hamilton team came up to do this Tasmanian Oak floor for Nufloors Auckland.
Whenever I do a Tasmanian Oak Flooring I always think of my old Nana and Pops who live in Tasmania. Of course as I mentioned in a early blog Tasmanian Oak is Eucalyptus and not necessarily from Tasmania..
Anyway we got underway sanding this beautiful floor in the kitchen dining lounge and as always made very short work of it. Turns out that this customer wanted to sell up and shift to Australia to work. So as is always the case we had strict time frame so that they could have a open home.
With the floor sanded and coated in quick time and looking damn good it was off home to the Waikato. Next day saw the last coats on and the job was done. So for floor sanding and polyurethane in Auckland Hamilton or the greater Waikato areas us a call at Nufloors.
Check Out our Photos in Our Gallery Wb Index Pl